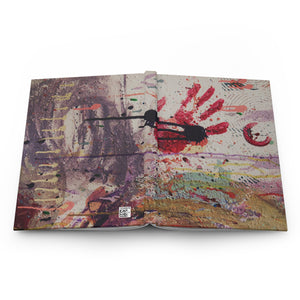 Splatter Series Hardcover Journal #2
Sale price Price $ 15.00 Regular price Unit price / per
The first CREATIVE PEOPLE JOURNAL SERIES features stills from the one and only Splatter Studio in the Maxine Orange Gallery.
Make your everyday journaling more personal, private, artsy, and stylish with this matte hardcover journal. Available in 5.75"x8", with 150 lined pages. Find inspiration for your daily creative or personal journaling with these creative designs from Maxine's featured artist friends. Join us as we embark on a new Podcast Experience, featuring conversations with some really awesome Creative People.
.: Full wraparound print
.: 150 lined pages (75 sheets)
.: Matte finish
.: Casewrap binding
.: Note: 0.5"x0.5" production barcode visible on the back cover
Maxine's CREATIVE PEOPLE podcast is being resurrected and will be launching soon! With your purchase of one of these printed journals, you will get personal access to the CREATIVE PEOPLE VIDEO VAULT. Witness conversations with some of Maxine's favorite Creative People, in cool unique spaces and places.